Kacey Pole Adapter - Essential Strobist Kit
Sometimes it's weird where inspiration comes from - the kids are on mid-term break from school and she who must be obeyed suggested I move on with some long outstanding painting around the house! Having spent (to my mind) too long applying a white foul smelling substance to wooden vertical surfaces, my mind started to wander to things photographic.
Over the last year we've been using a monopod to position handheld Canon Speedlites for off-camera lighting. This is not the ideal solution as the heavy end is the end that holds the Speedlite, making it hard work for the assistant. Enter the Kacey Pole Adapter. This is a machined aluminium adaptor that allows you to use an inexpensive Harris or similar paint roller extension pole to position your Speedlite.
The adaptor is a standard 16mm(5/8th inch) spigot, with an internal thread 19mm (3/4 inch) with 5 threads per 25mm (1 inch) which on initial inspection could equate to the Harris paint roller extension available from DIY multiples throughout the UK.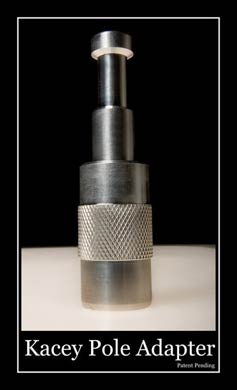 I've yet to find anywhere in the UK that supplies the Kacey Pole Adapter, so will need to order some from the US. Flash Zebra supply these for around
$19 plus shipping to the UK
.
As soon as mine arrive I'll post a report here letting you know if they work or not. In the meantime, if I find a suitable alternative in the UK, I'll let you know.
In addition to the Kacey Pole Adaptor, you'll need some sort of adaptor to take your hotshoe flash or Speedlite and whatever modifier you choose to use. I use the
Manfrotto 026 Swivel Umbrella Adaptor
which is available from most major UK photographic resellers including
Park Cameras
.